Vision
Common Fence Point (CFP) is prepared for and resilient to acute hazards such as flooding from intense storms and extreme tides as well as impacts of long-term climate change such as sea level rise.
Mission
Connecting CFP community members and responding to their needs
Sharing pertinent information and resources
Promoting activities that enhance preparedness and resilience to hazards threatening the community, including those resulting from long-term climate change
Coordinating with town, state, and other stakeholders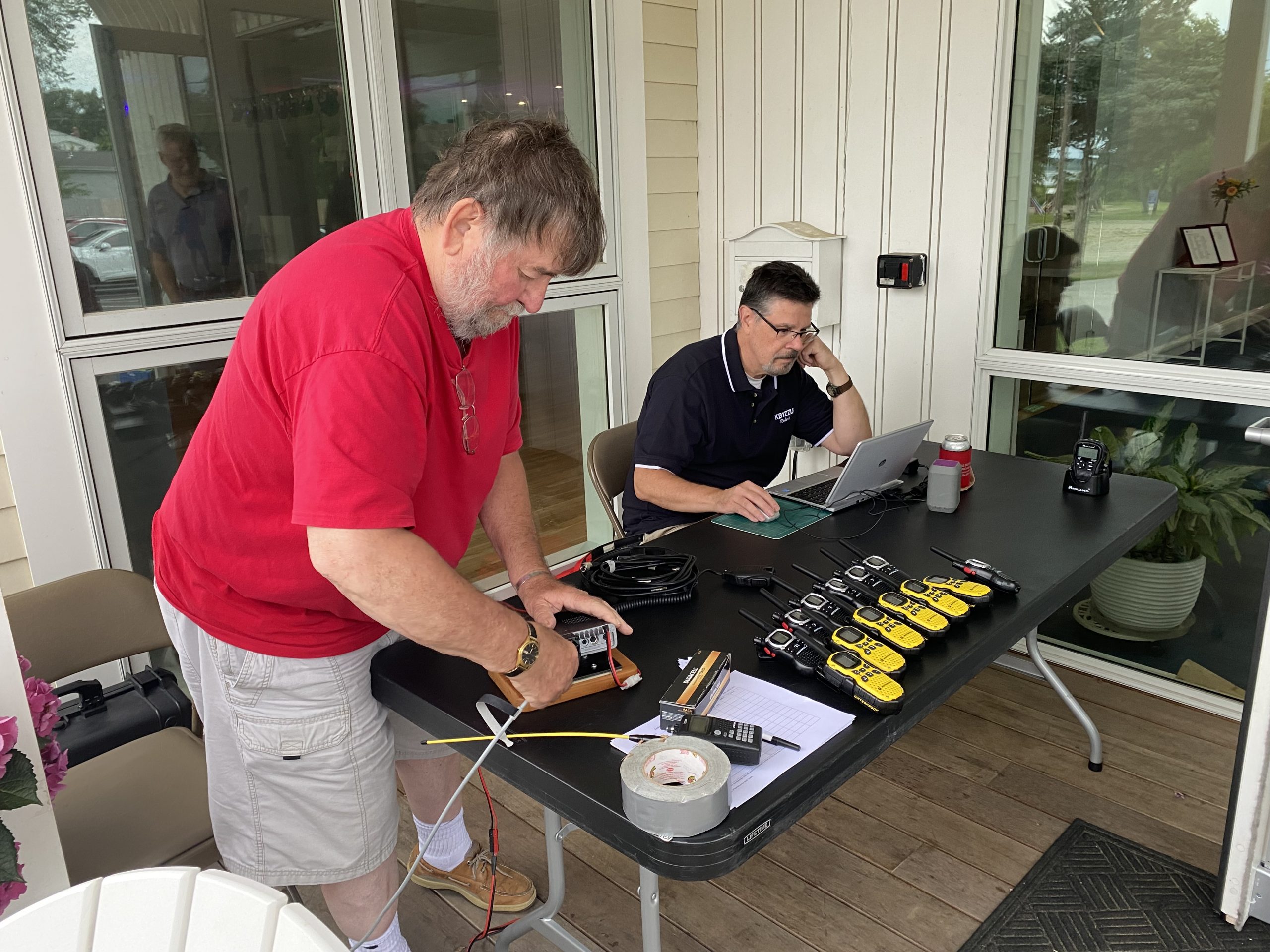 On Thursday evening, July 29th, around 6:30 PM, it was an overcast evening with intermittent showers.  Nevertheless, you may have seen teams of individuals walking around Common Fence Point wearing bright yellow safety vests and performing radio checks with small hand-held radios.  The radios being used are referred to as FRS Radios, which stands for "Family Radio Service".   They operate within a frequency range that does not require a licensed operator and which is also providing a capability for families to communicate with Volunteer Emergency Radio Operators in time of a disaster.  The Newport County Radio Club (NCRC) was testing the connectivity and range of these simple to use radios in support of a Damage Assessment Exercise titled Resilient Neighbor, scheduled for the evening of August 25th, 2021 here at Common Fence Point.  The results from the Radio Clubs testing will be used by the Amateur Radio Emergency Service (ARES) in developing the communications plan for the exercise.  ARES handles emergency messages, including those between government emergency management officials.  Both these groups are supporting the Portsmouth EMA's Volunteer Emergency Communications Unit.  There are NCRC members that are also ARES members that are also Portsmouth Communications Unit members, and collectively they provide an invaluable emergency service to our community.
The exercise is intended to learn how the Common Fence Point Preparedness Committee and neighborhood volunteers might support the Assessment of Damage to our neighborhood following a hurricane or other emergency.  Damage assessments are required in determining if an area qualifies for assistance under the Robert T. Stafford Disaster Relief and Emergency Assistance Act, administered by the Federal Emergency Management Agency (FEMA) via R.I. EMA and our State Governor.  "Neighborhoods participating in local preparedness and response initiatives such as this one are shown to recover faster following a disaster" said Ray Perry, Portsmouth Emergency Manager and the coordinator for the Resilient Neighbor exercise.
The exercise is part of a much larger Portsmouth wide effort aimed at providing every interested neighborhood with a Neighborhood Disaster Preparedness, Response & Recovery Operating Guide.   Once this guide is developed and approved, other neighborhoods will be offered its use as a template for their own neighborhoods.
If you are interested in getting involved in the exercise or the CFP Preparedness Committee, please contact the Chair of the Committee, Jim Fogerty at jefogerty@gmail.com.   We are interested in finding people in the neighborhood with design or structural engineering backgrounds to participate in the exercise, but others are welcome as well.  There is no obligation to respond during an actual event, but local participation in the planning and exercise helps us build the guidance for those that may be able to respond in time of a disaster.
Author/Contact: Ray Perry (401) 477-2172
The link below is to the video the CFP Preparedness Committee presented at the 2023 RI Flood Mitigation Association Conference on 5/25/2023. CFP Presentation at RI Flood Mitigation Conference
read more
Contact The CFP Preparedness Committee
Please use the form below to contact the Preparedness Committee.